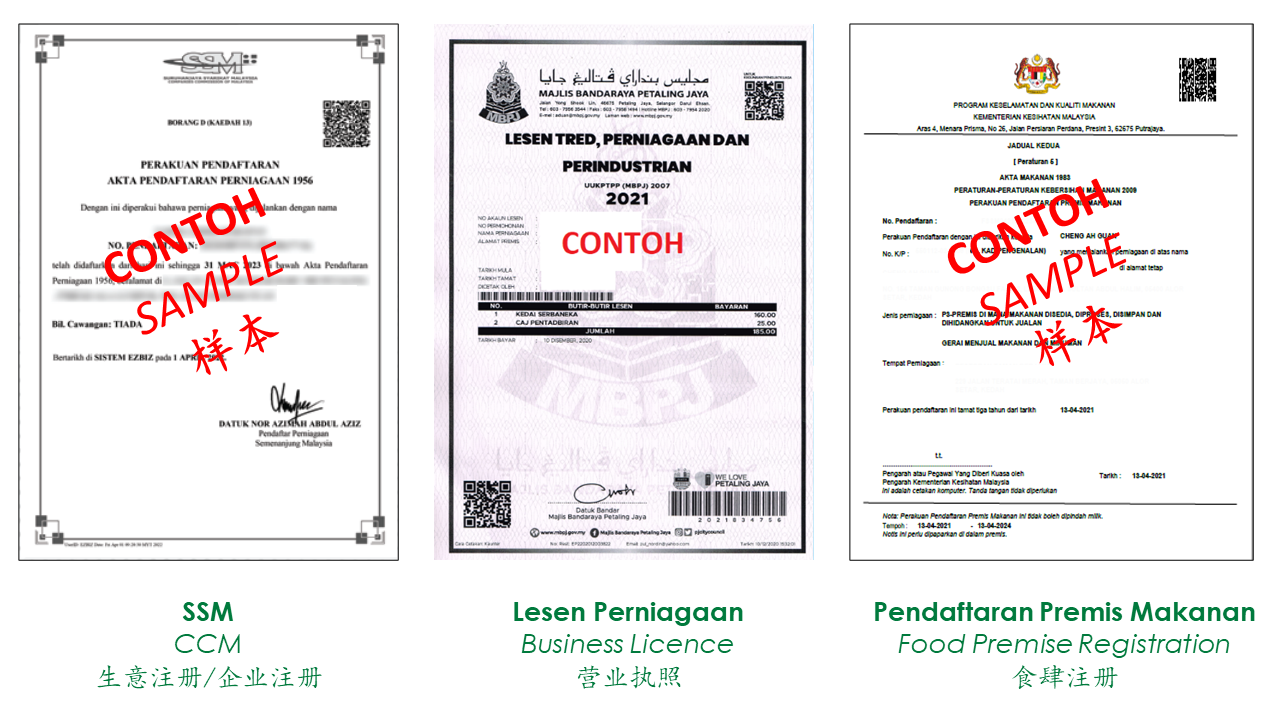 SSM Lesen Pendaftaran Fosim KKM. As a food business operator, it is important for you to ensure that all business documentation needed are complete and ready for inspection at all times. This is the responsibility that has to be fulfiled by every food business operator. Having these documents demonstrates that a business is legally recognized and validated, which boosts its credibility and instills confidence in its products or services among customers.
What are the required documents that food business operators need to have, and how can they obtain them?
3 documents that are required for a food business are:
Business Registration Certificate / Company Incorporation Certificate / Certificate of Registration for Limited Liability Partnership – usually known as SSM
Business License issued by Local Authority
Food Premise Registration – also known as FoSIM Registration
The public often refers to these documents as "licenses," but in reality, they serve different purposes and are issued by different government agencies. Let's examine each of the above-mentioned documents individually.
1. Business Registration / Company Registration  / Limited Liability Partnership Registration
In Peninsular Malaysia and the Federal Territory of Labuan, all businesses must be registered with the Companies Commission of Malaysia – CCM. CCM is also known as SSM (it's Malays abbreviation) among the locals. CCM is a government agency under the Ministry of Domestic Trade and Cost of Living that oversees compliance with corporate laws and business registration in Malaysia. Traders and entrepreneurs can register their businesses or companies according to their needs. SSM will issue a Business Registration Certificate (Form D), Company Incorporation Certificate (Form 9), or Limited Liability Partnership Registration Certificate based on the type of entity being registered."
It is the responsibility of the business owner to obtain a business license, permit, or letter of authorization from the local authority or relevant agency that corresponds to the type or activity of the business, even if the business has already been registered with CCM.
2. Business License or Premise License
Food business operator must also meet the requirements set by the Local Authority. As a general rule, business owners need to apply for a business license or premises license with the local authority in the area where the business is located. When applying, the applicant may need to provide supporting documents such as a copy of the business/company registration, a Food Handler Training attendance certificate, a typhoid vaccination card, and sometimes a food premises registration certificate."
3. Food Premise Registration
Food premises operating in Malaysia must be registered with the Malaysian Ministry of Health (MOH). The requirement to register food premises is stated in Regulation 3, Food Hygiene Regulations 2009, while the types of premises that need to be registered are listed in the First Schedule of the same legislation. Food business entrepreneurs can register food premises through the website Food Safety Information System of Malaysia (FoSIM), After successful registration, the Premises Registration Certificate can be printed through the FoSIM system. Food business operator should keep in mind that the certificate must be displayed prominently at the food premises and not kept in storage
Food premises registration only applies to business premises that involves food preparation. Business premises that do not have food preparation do not need to be registered with the MOH.
Therefore, it is clear that these three documents are distinct and governed by different government agencies. As a food business operator, you must complete the following steps:
register your business
apply for a premises license
register your food premises.
We hope you have benefited from our sharing. Thank you so much for reading.